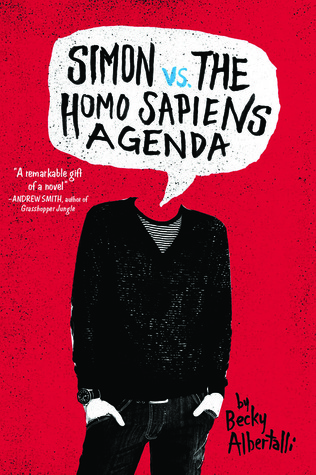 Simon vs The Homo Sapiens Agenda by Becky Albertalli
Release Date:
7th April 2015
Publisher:
Penguin
Pages:
320
Format:
Paperback | Purchased
Add on GoodReads
Plot Synopsis (from GR):
Sixteen-year-old and not-so-openly gay Simon Spier prefers to save his drama for the school musical. But when an email falls into the wrong hands, his secret is at risk of being thrust into the spotlight. Now Simon is actually being blackmailed: if he doesn't play wingman for class clown Martin, his sexual identity will become everyone's business. Worse, the privacy of Blue, the pen name of the boy he's been emailing, will be compromised.

With some messy dynamics emerging in his once tight-knit group of friends, and his email correspondence with Blue growing more flirtatious every day, Simon's junior year has suddenly gotten all kinds of complicated. Now, change-averse Simon has to find a way to step out of his comfort zone before he's pushed out—without alienating his friends, compromising himself, or fumbling a shot at happiness with the most confusing, adorable guy he's never met.
My thoughts:
"White shouldn't be the default any more than straight should be the default. There shouldn't even be a default."
I am always suspicious of a contemporary YA book that, somewhere on its cover, claims to be the literary love child of John Green and Rainbow Rowell, if only because Green and Rowell are arguably the two biggest names in contemporary YA right now. So I was surprised to find that Albertalli's voice is actually quite similar to Green and Rowell's. This book is probably one of my favourites that I've read this year, and it manages to address some serious themes without ever really losing that fluffiness factor.
Simon Spier is being blackmailed. If Simon doesn't help Martin talk to Abby, then Martin's going to publish Simon's emails to Blue, an anonymous boy he's been emailing (and who Simon's falling in love with), and everyone in the school will know Simon's gay.
If you know me at all, you will know that I'm a peeker. Sometimes the suspense just gets to me and I have to have a look. This was one of those times, and I REALLY regretted it. Even though I peeked because I had a hunch about who Blue really was... it really did affect my enjoyment of the book. Moral of the story (quite literally, in this case?): don't peek. It'll be interesting to see how much I enjoy this book in subsequent rereads (because, oh, this one is going to be reread. Multiple times. And loaned out to all my John Green and Rainbow Rowell loving friends, if I can bear the agony of parting with it). It was definitely a fun, quick read - I managed to read it in one three-hour sitting.
The entire cast of characters were incredibly well-written. Like so many other readers, I found Simon to be incredibly endearing.
I also loved the dynamics between Simon and his friends and family. Simon comes from an incredibly supportive family, but that doesn't mean that they don't have their own issues to work out (mostly in regards to boundaries, I would think). Simon's friendships with Abby, Leah and Nick all had their ups and downs - as you get older, people come and go out of your life and watching them deal with that for the first time and the affects that it had on their relationship with one another was saddening, but it was nice to see Simon trying to figure out how to redefine the grounds of their friendship, rather than let it fade away.
My favourite, of course, was Blue and Simon's relationship.
A lot of Simon and Blue's relationship developed through their emails to one another, and I loved being able to watch that relationship grow and the dynamics change. I loved being able to watch both Simon and Blue let their guards down and write things that they wouldn't usually write to one another, and feel around for where the other is at. At one point, Blue knew who Simon was but Simon didn't know who Blue was, and it was... interesting. My favourite part had to be Blue revealing himself to Simon, of course (and watching them figure out what that meant for their real-life relationship). It was extremely heart warming to read. Bonus - unlike a lot of YA, there was no white-washing of characters. There was PoC representation, and they were clearly stated as being PoC. I appreciated this book all the more for it.
If this book isn't on your TBR list, make sure it is. You will not regret it.