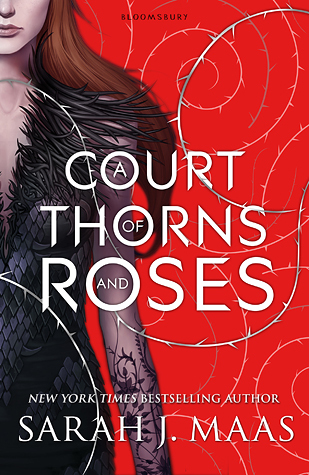 A Court of Thorns and Roses
Publish Date:
5th May 2015
Publisher:
Bloomsbury
Pages:
416
Format:
Paperback | Purchased
Add on GoodReads
Plot synopsis (from GR):
Feyre's survival rests upon her ability to hunt and kill – the forest where she lives is a cold, bleak place in the long winter months. So when she spots a deer in the forest being pursued by a wolf, she cannot resist fighting it for the flesh. But to do so, she must kill the predator and killing something so precious comes at a price.

Dragged to a magical kingdom for the murder of a faerie, Feyre discovers that her captor, his face obscured by a jewelled mask, is hiding far more than his piercing green eyes would suggest. Feyre's presence at the court is closely guarded, and as she begins to learn why, her feelings for him turn from hostility to passion and the faerie lands become an even more dangerous place. Feyre must fight to break an ancient curse, or she will lose him forever.
My thoughts:
*Elle Woods voice* Ohmigosh, you
guys
- I loved, loved, loved this! I loved it more than I loved
Throne of Glass.
I didn't really know what to expect going in - I just kind of thought, SARAH J. MAAS!!! NEW BOOK!!! MUST BUY!!! so basically didn't know anything about it - and ended up spending The Queen's Birthday long weekend curled up in bed and speed-reading this book. SO. GOOD. If I'm being 100% honest, I felt like this could make a good standalone book, but I'm more than happy to have some more adventures with Feyre, Tamlin and Rhys.
A Court of Thorns and Roses
is actually a retelling (of sorts) of
Beauty and the Beast
. My knowledge of fairy tales is limited to the incredibly sanitised Disney versions (Belle is my favourite Disney princess, for the record), so I couldn't tell you how this held up against the original tale, but I will tell you this: Feyre is one of my favourite heroines in fantasy. Unlike a lot of heroines in YA & NA fiction, she is actually quite flawed - but this doesn't stop her from being likeable. She's stubborn and unable to see the bigger picture at times, and sometimes her behaviour frustrates you, but you never stop hoping that she'll succeed in her Herculean task. Where Feyre really shone was in the scenes with Rhys - there's something light and playful about their relationship; there's often a lot of banter in their conversations and it was a joy to read. Tamlin is a wonderful love interest for Feyre - although from his description, he's not exactly beastly, unless you count the fact that there's a mask that's been magically adhered to his face (but then, everyone in the Spring Court does). Maas spends a lot of time developing their relationship, going from awkward, stilted conversation (on Tam's part) and long silences (on Feyre's part) to a real partnership. There were a few scenes fairly early on in the book that I felt fell a little flat - her father was a bit
too
spineless, her sister Nesta was a bit
too
harsh - and made me feel like this was, in fact, a retelling of
Cinderella
.
What I felt was missing was the action - because, let's face it: Maas is a brilliant writer, and her actions scenes are always done incredibly well. I got some beautiful actions scenes in the first few chapters - Feyre stumbling across a wolf while hunting in the woods, Tamlin breaking into Feyre's family cottage - but they were just there to tease me. There's very little action once we reach Prythian (although Feyre does have some interesting run-ins with some magical creatures); instead we have lush descriptions of the castle and grounds, and spend a lot of time with interesting characters. There's a lot of gorgeous imagery and lush descriptions, and Maas' writing is compelling. I never once bored of the book, even when Feyre was just describing her surroundings. I loved the inhabitants of the Spring Court so much that I was sad to leave them and return to the human world - not just because I felt that Feyre had better chemistry with Tamlin, Rhys and Arlis than she did her own family, but because I enjoyed what the characters brought to the story and it felt like I was leaving behind some good friends (in short: I cared about them, and didn't want to go). Maas has obviously spent a lot of time developing her world, it is inventive and detailed. It took awhile for me to get a handle on the different courts and political players, but once I did, I found it added something new to the fantasy format.
As a whole, I think that this book will be a game-changer. Maas has taken the coming-of-age perspective of YA books and combined it with the freedom of being able to write for an adult audience. It shows what a talented writer can do with an emerging genre, and I can't wait to see what Maas has for me next.
★★★★