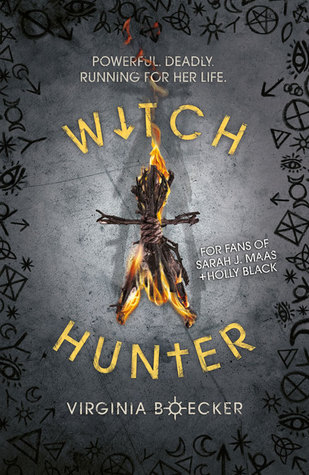 Witch Hunter by Virginia Boecker
Publish Date:
2nd June 2015
Publisher:
Orchard Books
Pages:
413
Format:
Paperback | Purchased
Add on GoodReads
Plot Synopsis (from GR):
Sixteen-year-old Elizabeth Grey doesn't look dangerous. A tiny, blonde, wisp of a girl shouldn't know how to poison a wizard and make it look like an accident. Or take out ten necromancers with a single sword and a bag of salt. Or kill a man using only her thumb. But things are not always as they appear. Elizabeth is one of the best witch hunters in Anglia and a member of the king's elite guard, devoted to rooting out witchcraft and bringing those who practice it to justice. And in Anglia, the price of justice is high: death by burning.

When Elizabeth is accused of being a witch herself, she's arrested and thrown in prison. The king declares her a traitor and her life is all but forfeit. With just hours before she's to die at the stake, Elizabeth gets a visitor - Nicholas Perevil, the most powerful wizard in Anglia. He offers her a deal: he will free her from prison and save her from execution if she will track down the wizard who laid a deadly curse on him.

As Elizabeth uncovers the horrifying facts about Nicholas's curse and the unwitting role she played in its creation, she is forced to redefine the differences between right and wrong, friends and enemies, love and hate... and life and death.
My thoughts:
This was one of my most anticipated releases of 2015, and I pretty much spent the first half of the year eagerly awaiting June so I could get my hands on this book. Unfortunately, I didn't love this book as much as I thought I would - it had so much potential! Witches! Black magic! Political intrigue! Cute healer boy! - but there were a few things that didn't really work for me. Nevertheless, things really picked up in the second half of the book.

Witch Hunter wasn't what I expected in that it was very... light? Given the plot synopsis, I was expecting something quite heavy and dark, but what I was given was a light-hearted adventure with a few fun characters, a light, sweet romance and a dash of humour. I'm not complaining, really - it was a fun ride of a read, but it also had a lot of unused potential. I expected a more complicated plot, a book that was darker in tone.

Elizabeth and I... we didn't get along. I found Elizabeth to be incredibly naive and it was incredibly difficult for me to sympathise with her. She rarely thought for herself - her job is capturing witches and wizards and letting them burn at the stake. It's a brutal way to die, and she never questions whether or not these people are truly guilty. She never questions why Blackwell won't let her kill the witches and wizards - if magic is truly bad, why let them live? Even after she is rescued from prison by Anglia's most wanted wizard, her only thought is returning to the people who imprisoned her and handing over innocent people to them. It was incredibly frustrating to read Elizabeth's bigotry.

Fortunately she is backed by an amazing supporting cast - the swoon-worthy John, who is a gentle and patient healer (and also the main love interest), was a standout. Another favourite was Fifer, who was brash and fierce and unapologetic. It was odd, having a character so full of personality next to one who lacked any discernible personality whatsoever, but Elizabeth was actually at her best when she was with the supporting cast and not left to any internal reflections. Fifer's sort-of love interest Shuyler was also amusing, and had some wonderful scenes with Elizabeth. While these characters all worked well as a group and each brought something different to the table, I don't think that they were developed enough for me to fully appreciate them as individuals. I could sense where Boecker was going with characterisation, and there were some traits that I wanted to be fleshed out a little more because they weren't quite there. That said, Boecker is a talented writer - she really draws you into the action scenes, which are cinematic and near flawless.

Though Witch Hunter didn't live up to my expectations, there was definitely enough there to get my interest piqued, and
I'll definitely be keeping the next book on my radar. The second half was quite enjoyable, and the big reveal at the end made me keen to find out what happens!