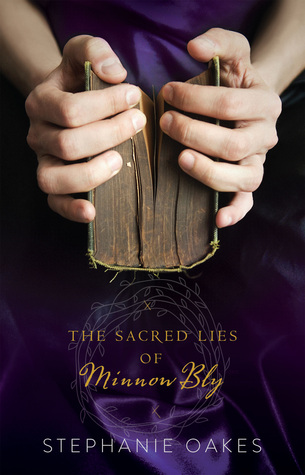 Release Date:
22nd June 2015
Publisher:
HarperCollins
Page Count:
394
Format:
Paperback | Purchased
Add on GoodReads
Synopsis (from GR):
The Kevinian cult has taken everything from seventeen-year-old Minnow: twelve years of her life, her family, and her ability to trust.

And when Minnow rebelled, they took away her hands, too.

Now the Kevinian Prophet has been murdered and the camp set aflame and it's clear Minnow knows something. But she's not talking. As she adjusts to a life behind bars in juvenile detention, Minnow struggles to make sense of all she has been taught to believe, particularly as she dwells on the events that led up to her incarceration. But when an FBI detective approaches her about making a deal, Minnow sees she can have the freedom she always dreamed of; if she is willing to part with the terrible secrets of her past.

Powerful and compelling. this remarkable and brave debut novel reveals the terrible dangers of blind faith. And the importance of having faith in yourself.
My thoughts: The Sacred Lies of Minnow Bly is one of my favourite books of 2015. I didn't know what to expect from it - I came across it while browsing my local bookstore and bought it without reading any reviews - and it was a happy surprise. I'm surprised it hasn't received more love from the GoodReads/YA community - I haven't heard any hype about it, I haven't come across any reviews on GR, but it definitely deserves more attention than it seems to be getting.
I have to admit: I'm fascinated by religion and what it will drive people to do in the name of their beliefs, and I had a feeling that this book would suck me in.
I'm not sure if Oakes based the Kevinian cult on a particular religious cult or was inspired by religious cults in general, but her depiction of Minnow's life in the cult was quite realistic:
I want to tell him that these are the people who lashed their children with switches thick as forearms when the Prophet commanded, married their daughters off at sixteen to men generations older. These are the people who beat Jude until there was nothing left but a mess of blood and bone. They had to cover him in a sheet because it made the women sick to look at.
I found the book slow to start, but became hooked about a quarter of the way in. Oakes does a brilliant job of balancing the horrific and the beautiful, telling the story of Minnow's life in gaol and in the cult, and creating a contemporary psychological thriller that keeps the reader guessing.
In a book that is so fantastic, it is hard to pinpoint exactly what it was that I loved about it. I'm going to say straight off the bat that I adored Minnow - you would expect a girl who has spent most of her life in a religious cult and who has had her hands cut off to be submissive. Minnow is not that: she is damaged from her abuse, but she is also manipulative (when she thinks it necessary), cunning, and hardened. Despite being disabled, she never plays the victim. She is suspicious of almost everyone she meets, and she does everything in her power to protect herself from being victimised. Minnow also wants more from her life: she doesn't want to shut herself away from the world and live in isolation. Oakes' characterisation is wonderful - not just with Minnow, but with all of her characters. The Prophet aside, there were shades of grey in all of the characters, and that raised questions of morality and justice.
There was also a beautiful friendship between Minnow and her cellmate, Angel. A lot of Minnow's growth in gaol is a result of her relationship with Angel. Angel is honest, wise, and wants Minnow to succeed. She supports Minnow in her quest for something greater in life, and believes in Minnow when Minnow doesn't believe in herself. In return, Minnow refuses to let Angel be defined by her crimes. Minnow likes to see the best in Angel, and I think that Angel is all the better for it.
Despite the violence and physical & emotional abuse depicted in the novel, I found this book to be more thought-provoking than disturbing. It brought up questions of religion, God, justice and morality. Oakes writing is absolutely gorgeous and in some places, took my breath away. For example:
Dark clouds covered the pale blue in a holey blanket. To the east was the moon, almost full. My whole body was quaking, but I couldn't take my eyes off that moon. Even as the Prophet approached me, shouting in a screeching voice that reached down into my soul and grabbed the necks of the angels that lived there, I could hardly care about anything but the almost-oval of moon hanging over the forest I'd known almost my entire life, clouds sliding across like doves.
The Sacred Lies of Minnow Bly is a coming-of-age story unlike any other that I've read. I love YA that packs an emotional punch, and The Sacred Lies of Minnow Bly definitely did that. To create a psychological thriller that is grounded in realism and has a plot that is entirely plausible - that is an admirable feat and I take me hat off to Stephanie Oakes. The fact that this is Oakes' debut novel is even more stunning - she is definitely going on my 'authors to watch' list.