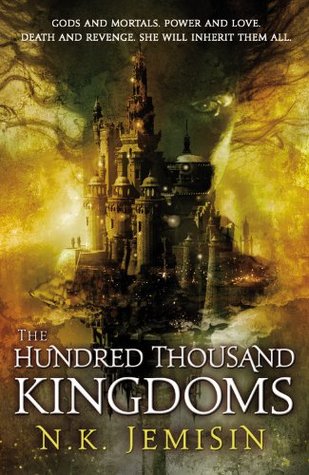 Release Date:
25th February 2010

Publisher:
Orbit
Page Count:
427
Format:
Paperback | Borrowed
Add on GoodReads
Synopsis (from GR):
Yeine Darr is an outcast from the barbarian north. But when her mother dies under mysterious circumstances, she is summoned to the majestic city of Sky. There, to her shock, Yeine is named an heiress to the king. But the throne of the Hundred Thousand Kingdoms is not easily won, and Yeine is thrust into a vicious power struggle.
My thoughts: I'm a huge fan of Jemisin's Dreamblood duology, and The Hundred Thousand Kingdoms had been on my to-read list for about a year; so when I noticed that my library had a copy I immediately picked it up. While not as polished as Dreamblood, The Hundred Thousand Kingdoms is still an enjoyable read. It stands out from most fantasy, if only because - as Jemisin herself has said
- Jemisin has no interest in maintaining the status quo. Most fantasy is about restoring the rightful heir to the throne, maintaining order in or defeating a threat to the kingdom. Jeminsin turns that notion on its head, and writes fantasy about challenging those in power and questioning the order of society.
I adore theological fantasy, and while the gods in The Hundred Thousand Kingdoms were of Jemisin's own devising, I still quite liked this one. The characterisation in this novel is incredibly well done - Nahadoth is everything I ever wanted in a god. I also adored Sieh - who made me think of Loki (the god, not the comic book character) - and his relationship with Yeine. I think that this is what makes up The Hundred Thousand Kingdoms: Yeine's relationships with those around her. Not just the ones between her and the gods, but also with her grandfather and cousins, who have pulled her into a political war, and with her mother. Even though Yeine's mother has died, Yeine must come to terms with who her mother was and the choices that she had made.
Yeine is an interesting heroine - she is the leader of Darr, a warrior nation that is often characterised as being barbaric, although she doesn't read like a warrior queen, nor act like one. She often reacts the way a child would, and can be impulsive and rash. For a warrior, she also comes across as quite passive.
One thing that I didn't like was the narration - there would occasionally be digressions scattered throughout Yeine's narration that give out backstory and little bits of history. While the reason for this was explained towards the end, it still frustrated me immensely. It was as if someone was speaking to you, and kept having to clarify things or pausing to add more information. I also found the romance awkwardly done - once Yeine and Nahadoth were together, it felt more like compulsion than attraction. They were obsessed with one another, and given the power disparity between Nahadoth, a god (an enslaved god, but a god none the less), and Yeine, a mortal... it just felt awkward to me.
The Hundred Thousand Kingdoms is quite a good read, although could've been executed a little bit better. Given the ending, I'm assuming that The Inheritance Trilogy will do what Dreamblood did, and focus on new characters in the next book and I'm all for that; I intensely dislike it when one story is stretched thinly across three books.